VINTAGE RUBBER FACE PLUSH BEAR POPEYE SAILOR DOLL W RARE RED GUND BOX 1950s TOY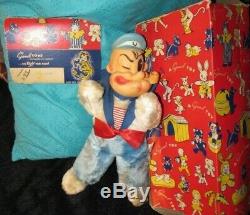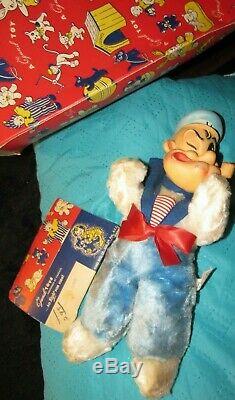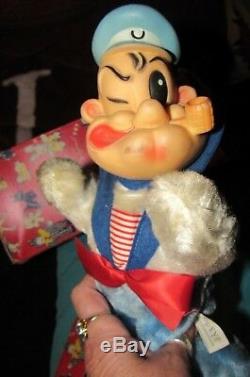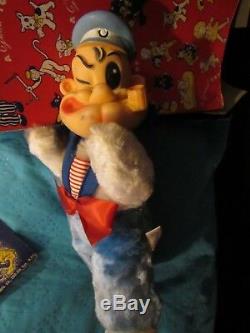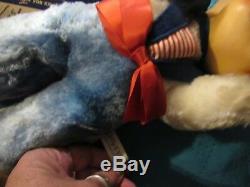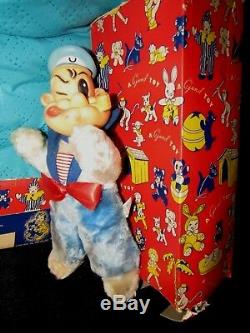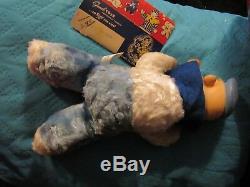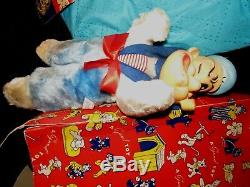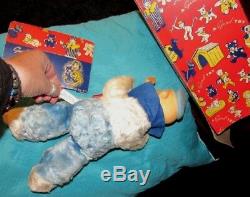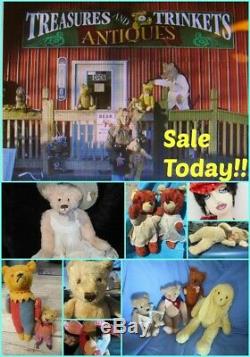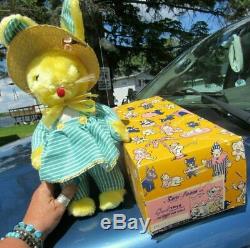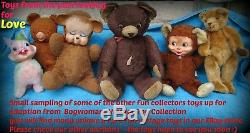 AFTER RESEARCHING LOTS OF ITEMS. I HAVE DECIDED TO DO MOST OF MY AUCTIONS NOW WITH THE. OPTION SO YOU CAN OFFER ME WHAT YOU THINK IS A FAIR PRICE ON MY ITEMS. I DO THIS FOR A LIVING NOW SO PLEASE TAKE INTO CONSIDERATION THAT I GO HUNT THESE ITEMS DOWN FOR YOU. AND I LOVE TO HELP COLLECTORS FIND THAT ONE ANTIQUE TEDDY BEAR OR SPECIAL ITEM THEY CHERISH!
THANK YOU FOR TAKING THE TIME AND READING THIS! I LOVE TO BRING SOMEONE A PIECE OF THEIR PAST WITH THESE HARD TO FIND RARE AND UNIQUE OLD VINTAGE PLUSH AND COLLECTOR TOYS FROM BACK IN THE DAY... TOYS THAT WILL HOPEFULLY HELP SOMEONE REPLACE A LOST PIECE OF THEIR CHILDHOOD... THIS ONE COULD OF BEEN SOMEONES FAVORITE TOY YEARS AGO.....
I WILL TRY MY BEST TO HELP IT FIND THE PERFECT HOME. WOULD MAKE A WONDERFUL FUN GIFT FOR ANY TOY COLLECTOR OF THESE FUN VINTAGE CLASSIC RUBBER FACE TOYS AND VINTAGE GUND OR POPEYE TOYS!!! MORE CLASSIC NICE VINTAGE TEDDY BEARS AND RUBBER FACE PLUSH BEARS AND ANIMALS TOYS AVAILABLE IN MY OTHER AUCTIONS. IF YOU LIKE VINTAGE TOYS AND UNIQUE COLLECTIBLES FOLLOW US AS WE ARE ALWAYS LISTING MORE FRESH TO THE MARKET HARD TO FIND COLLECTOR ITEMS AND GREAT OLD TOYS... HE HAS THE RARE HARD TO FIND NICE BLUE AND WHITE PLUSH FUR COLOR ON HIS BODY....
THE PLUSH IS VERY CLEAN AND NICE AND SOFT.. HE STILL WEARS HIS ORIGINAL BLUE RED STRIPED SAILOR COLLAR AND BIG RED RIBBON... HE ALSO STILL HAS HIS RARE GUND TAG IN HIS LEG... ONE SIDE SAYS POPEYE THE OTHER SAYS GUND ETC... AND ALSO SO RARE TO FIND HIS ORIGINAL RED GUND TOY CARDBOARD BOX WITH ALL THE FUN TOYS ON IT AND POPEYE STAMPED ON IT ALONG WITH HIS PRODUCT NO ETC FROM BACK IN THE DAY... SEE PHOTOS FOR MORE DETAILS.... THIS SWEET OLD RUBBER FACE POPEYE BEAR DOLL IS READY FOR HUGS!
HE IS THE CLASSIC STYLE OLD RUBBER FACE GUND TOY FROM YEARS AGO! BELIEVE THESE WERE MADE IN THE 1940'S.. 1950'S AND 60'S ETC BY GUND.... THIS WILL MAKE A RARE AND UNIQUE HARD TO FIND ADDITION TO ANY VINTAGE RUBBER FACE PLUSH OR GUND ANIMAL DOLL TEDDY BEAR DISPLAY OR HARD TO FIND WONDERFUL ADDITION TO SOMEONES RUBBER FACE VINTAGE TOY COLLECTION.... WOULD MAKE A GREAT GIFT!
THIS SWEET OLD PLUSH DOLL ANIMAL IS ONE OF THE VINTAGE BEARS / AND ANIMALS / DOLLS ETC FROM BACK IN THE DAY.... HE HAS AN AWESOME FACE!!!
HIS FACE IS VERY EXPRESSIVE... HAS A VERY SWEET LOOK TO HIM... THIS FUN OLD POPEYE GUND TOY MEASURES APPROX 14 INCHES TALL... WELL MADE OLD GUND TOY IN VINTAGE PRE OWNED CONDITION........
HE COMES TO YOU WITH HIS ORIGINAL BOX THAT MEASURES APPROX 16 INCHES... HE IS A FUN COLLECTIBLE..... THESE OLD VINTAGE TOYS WILL USUALLY SHOW SOME WEAR FROM AGE BUT HE IS PRETTY GOOD VINTAGE CONDITION OTHER THAN A COUPLE SMALL LITTLE SCUFFS ON HIS CHIN see photos.. May come off with a gentle clean AND BOX SHOWS SOME WEAR / COVER FLAP IS RIPPED ETC BUT STILL NICE AND VIBRANT AND GREAT FOR DISPLAY......
PRE OWNED TRUE VINTAGE CONDITION... PLUSH FUR COVERAGE IS FULL AND NICE....
SEE PHOTOS AND FULL DESCRIPTION FOR DETAILS ETC... HIS FUR ON HIS BODY IS A PRETTY BLLUE AND WHITE NICE PLUSH....... FUR IS THICK AND SOFT...
ALSO OTHER VINTAGE RUBBER FACE TOYS IN MY OTHER AUCTIONS IF YOUR A COLLECTOR TAKE A LOOK!! MORE TRUE VINTAGE CLASSIC PLUSH RUBBER FACE TOYS INCLUDING A VERY RARE HUGE LIFESIZE 33 INCH VINTAGE VERY RARE AND HARD TO FIND OLD RUBBER FACE BLACK AND WHITE PANDA BEAR.. ALSO A LARGE RUBBER FACED RARE BIG BAD WOLF AND CUTE RUBBER FACED PUPPYS ETC THAT YOU WILL FIND IN MY OTHER AUCTIONS IF INTERESTED.... SOME VERY HARD TO FIND AND RARE ONES UP FOR ADOPTION NOW.......... THESE RARE VINTAGE TOYS ARE VERY FUN, LOVE THE HAPPY DETAILED FACES WITH SO MUCH EXPRESSION ON THEM!! PLEASE CHECK MY OTHER AUCTIONS FOR MORE OLD RUBBER / PLASTIC FACE TOYS IF YOUR A COLLECTOR & INTERESTED IN DIFFERENT ONES....... MOST ARE PRB FROM THE 1940S.. USE YOUR OWN JUDGEMENT ON ALL THESE OLD TOYS PLEASE.. THOSE FUN OLD ADORABLE TOYS ARE SO CUTE WITH THOSE SWEET EXPRESSIONS AND SHOW OFF LOTS OF DETAILS AND VIBRANT COLORS IN THE FACES AS WELL!! TOYS FROM THE PAST TO MAKE YOU SMILE. THESE OLD PRE OWNED TOYS USUALLY SHOW A LITTLE WEAR FROM AGE HERE AND THERE ON THE FACE & PLUSH ETC, THIS IS AN OLD TOY...., NOT SURE THE BEST CLEANER TO USE ON THESE OLD RUBBER/PLASTIC FACE TOYS SO LEAVE THEM AS FOUND AND LET THE PRO'S DO IT... WITH MORE TO BE LISTED SOON. SEE THE PHOTOS FOR BEST DESCRIPTION... THESE ARE FUN TO HUG!! I LEAVE ALL MY OLD TOYS AS FOUND..... AND DESCRIBE IT THE BEST I CAN. I TRY TO LIST ANY FLAWS ETC, BUT MAY MISS SOMETHING SO PLEASE CHECK OUT ALL THE PHOTOS FOR BEST CONDITION DESCRIPTION ETC...... WON'T YOU PLEASE ADOPT THIS SWEET VINTAGE OLD PLUSH TOY?? I THINK YOU'LL LOVE IT!! BRINGS YOU BACK TO YOUR CHILDHOOD......
THESE TYPE OLD RUBBER/PLASTIC FACED TOYS HAVE A LOT OF CHARACTER AND CHARM AND ARE VERY SWEET! & IF YOU COLLECT THESE OLD RUBBER FACE PLUSH TOYS CHECK MY OTHER AUCTIONS AS I HAVE MORE.... OLD RUBBER FACE CHICKENS AND BEARS AND POUTING DOLLS BEARS ETC.... THEY HAVE ALL BEEN LEFT AS I HAVE FOUND THEM OVER THE YEARS. BOTH MY HOME AND MY ANTIQUE SHOP ARE NON-SMOKING.
THIS ONE WILL BE SURE TO MAKE YOU SMILE. VERY SWEET AND FULL OF CHARM..
AN EARLY RARE & COLLECTIBLE TEDDY AND NICE SIZED BEAR FOR DISPLAY!! I WILL ALSO HAVE MANY MORE BEARS SOON TO BE LISTED! I only wish I was lucky enough in my lifetime to get to go to half of the wonderful places in the world and some of the countries many of my Dear Antique Teddy Bear friends have been Lucky enough to have been adopted to!!! I THANK ALL My Teddy Bear Friends that have Adopted my Sweet Bears, it means so much to me to know they have GOOD Homes & Are LOVED!! PLEASE USE YOUR OWN JUDGEMENT HERE AS TO WHAT YOU BELIEVE ABOUT THE MAKERS OF ALL THE ANTIQUE BEARS, DOLLS AND TOYS I SELL, AS IT IS HARD TO TELL AT TIMES WHICH OLD BEAR OR TOY COMPANIES MAY HAVE MADE THEM IF THERE ARE NO REMAINING MAKERS TAGS ON AN ITEM. IF I KNOW ANY INFORMATION ABOUT ANY OF THE OLD BEARS & TOYS, DOLLS ETC BACKGROUND OR KNOW THEIR MAKER, I WILL LIST IT IN THE DESCRIPTION AS IT WAS GIVEN TO ME. THANK YOU FOR STOPPING BY TO SEE THE BEARS, I HOPE YOU FIND ONE IN THE LOT OF OTHER AUCTIONS I HAVE LISTED IF NOT THIS SWEETIE, THAT YOU WOULD LOVE TO ADOPT! ADDED, PLEASE LET ME KNOW AND WE WILL ADD THAT PRICE TO THE TOTAL... MY ABOUT ME PAGE HAS MORE ABOUT OUR SHOP. SHOP POLICY IS ALL SALES ARE FINAL, SO PLEASE ASK QUESTIONS FIRST! THANK YOU AND GOD BLESS. I TRY TO FIND ITEMS FOR YOU....
I WOULD BE PROUD TO HAVE IN MY OWN COLLECTION!! YOU WILL FIND US WAY UP HERE IN GOD'S COUNTRY... NORTHERN MINNESOTA, WE HAVE MULTIPLE DEALERS AND LOADS OF TREASURES AND TRINKETS. SHOP POLICY IS ALL SALES ARE FINAL SO PLEASE ASK QUESTIONS BEFORE.
WE ARE LOCATED RIGHT ON THE CANADIAN BORDER IN INTERNATIONAL FALLS, MINNESOTA ON HWY 11 EAST. (one mile from the Canadian border) RIGHT ON THE WAY TO OUR FAMOUS FISH FILLED RAINY LAKE!!! The item "VINTAGE RUBBER FACE PLUSH BEAR POPEYE SAILOR DOLL W RARE RED GUND BOX 1950s TOY" is in sale since Thursday, November 8, 2018. This item is in the category "Toys & Hobbies\Stuffed Animals\Vintage". The seller is "bogwoman" and is located in International Falls, Minnesota. This item can be shipped worldwide.
VINTAGE POPEYE: VINTAGE GUND TOY W ORIGINAL BOX
Size: APPROX 14 INCHES TALL
Gender: CUTE VINTAGE RUBBER FACE POPEYE BEAR DOLL
Theme: VINTAGE RUBBER FACE TOYS W FUR PLUSH BODY
Material: VINTAGE Plush FUR RUBBER FACE
Year: 1940 ? APPROX
Character Family: Popeye
Brand: VINTAGE GUND RUBBER FACE TOY
GUND TEDDY BEAR: GUND TOY