VINTAGE RUBBER FACE RUSHTON PLUSH MONKEY HAPPY CHIMP 21 ZIPPY MR BIM 1950s ZIP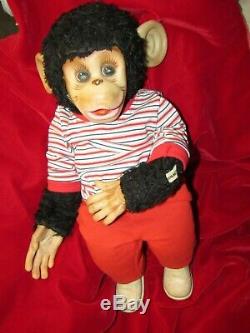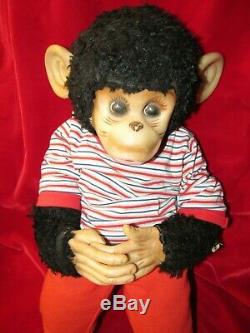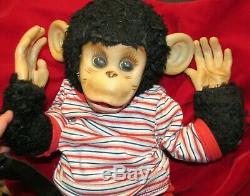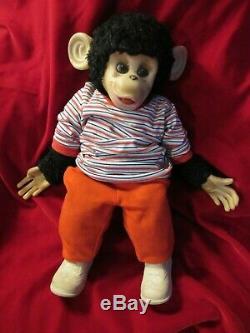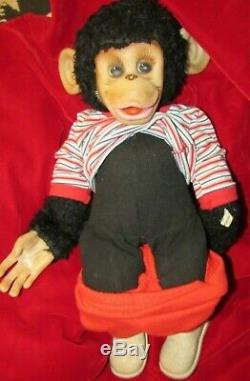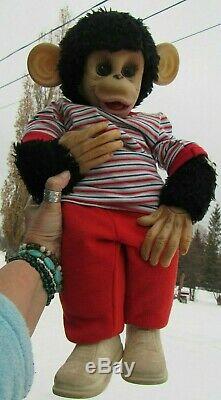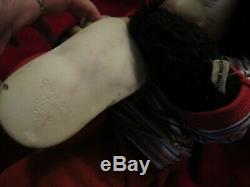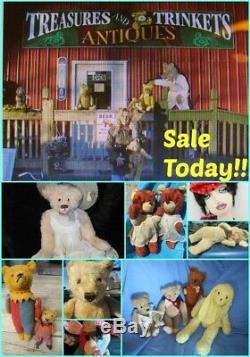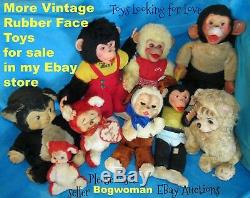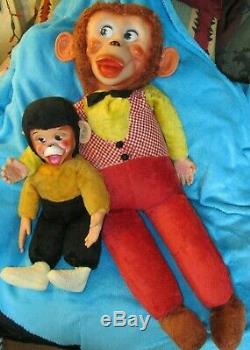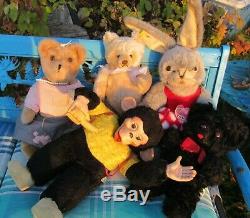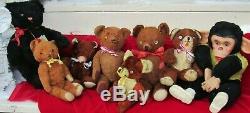 AFTER RESEARCHING LOTS OF ITEMS. I HAVE DECIDED TO DO MOST OF MY AUCTIONS NOW WITH THE. OPTION SO YOU CAN OFFER ME WHAT YOU THINK IS A FAIR PRICE ON MY ITEMS. I DO THIS FOR A LIVING NOW SO PLEASE TAKE INTO CONSIDERATION THAT I GO HUNT THESE ITEMS DOWN FOR YOU.
AND I LOVE TO HELP COLLECTORS FIND THAT ONE ANTIQUE TEDDY BEAR OR SPECIAL ITEM THEY CHERISH! THANK YOU FOR TAKING THE TIME AND READING THIS! I LOVE TO BRING SOMEONE A PIECE OF THEIR PAST WITH THESE HARD TO FIND RARE AND UNIQUE OLD VINTAGE PLUSH AND COLLECTOR TOYS FROM BACK IN THE DAY... TOYS THAT WILL HOPEFULLY HELP SOMEONE REPLACE A LOST PIECE OF THEIR CHILDHOOD... THIS ONE COULD OF BEEN SOMEONES FAVORITE TOY YEARS AGO.....
I WILL TRY MY BEST TO HELP IT FIND THE PERFECT HOME. THE LAST FIVE PHOTOS SHOW SOME A SMALL SAMPLING OF SOME OF THE OTHER RARE AND UNIQUE VINTAGE COLLECTOR TOYS WE SELL WITH MORE FUN VINTAGE MONKEYS AND CHIMPS ALONG WITH A RARE HUGE CHILDSIZE STORE DISPLAY ONE ETC..
THIS SWEET VINTAGE MONKEY TEDDY BEAR DOLL TOY IS VERY SWEET... SOME DO GET ADOPTED FAST AS MOST ARE VERY UNQIUE AND CHARMING... SO IF YOU SEE SOMETHING YOU LIKE BEST TO GET IT SOON.... APPROX 21 INCH BLACK ADORABLE HAPPY MONKEY CHIMP WITH RUBBER FACE , EARS, LIFELIKE RUBBER HANDS AND WHITE RUBBER BABY SHOES ONLY... A HAPPY LOOKING FUN GUY.... ITS HOW THE OLD ONES WERE MADE.... SEE FULL DESCRIPTION AND PHOTOS... HIS LITTLE RUBBER FACE VINTAGE CHIMP BROTHERS AND HUGE GRANDDAD MONKEY FRIEND ARE AVAILABLE IN MY OTHER AUCTIONS IN INTERESTED.. YOU WILL FIND OTHER DIFFERENT FUN RUBBER FACE PLUSH MONKEYS IN MY OTHER AUCTIONS INCLUDING THE ONE VERY RARE HUGE LIFESIZE 40 VINTAGE RUBBER FACE MONKEY GRAMPA YOU SEE IN THE ONE PHOTO SITTING WITH THIS ONE'S BROTHER AND SOME FUN CHIMPS WITH SUSPENDERS AND THE JINGLE BELLS.
LOOKS TO BE FROM THE FAMOUS ADORABLE MONKEY FAMILY OF FUN CHIMP CHARACTERS LIKE MR BIM... THIS RARE OLDER RUBBER FACE RUSHTON TOY IS A LARGE VERSION RUBBER FACE MONKEY CHIMP WITH THE OLD CLOTH RUSHTON TAG ON HIS ARM AND IS A FUN OLD GUY THAT LOOKS VERY HAPPY.... HE HAS A RUBBER FACE, EARS AND HANDS AND WHITE RUBBER BABY SHOES WITH RUSHTON INFO ETC ON THE BOTTOMS...
Please see photo of shoe bottom and tag.... HE IS A VINTAGE CLASSIC DRESSED BLACK PLUSH MONKEY CHIMP.. HE HAS NO FUR UNDER THE CLOTHES, THAT IS HOW SOME OF THE OLDER ONES WERE MADE please see photo that shows under his clothes... THIS CUTE RUBBER FACE MONKEY CHIMP DOLL TEDDY BEAR MEASURES APPROX 21 INCHES LONG... HAS AN ADORABLE SWEET LOOK....
FEELS LIKE YOUR HOLDING A BABY.... HE HAS THE RUBBER FACE WITH CUTE LARGE MONKEY EARS AND LIFE LIKE HANDS....
AND BIG CUTE WHITE RUBBER BABY SHOES... STRIPED SHIRT AND RED PANTS ARE HOW HE CAME TO ME..... NOT SURE IF THEY ARE ORIGINAL TO THE TOY OR NOT... BUT HE HAS ALWAYS HAD THEM AND HE LOOKS CUTE IN THEM..
CAN BE REMOVED IF YOU WISH..... OLD TOY WILL SOME WEAR / PRE PLAYED WITH / TRUE VINTAGE TOY.. HIS OLD STUFFING HAS SETTLED SOME IN HIS ARMS ETC...
EXPRESSIVE DEEP SET EYES AND SWEET FACE..... HE LOOKS LIKE HE IS HAPPY AND LAUGHING AND LOOKS LIKE ZIP OR ZIPPY MR BIM CLASSIC CHIMP... HE HAS CUTE WHITE RUBBER BABY SHOES... BELIEVE THIS IS ONE OF THE 1950'S / 60'S ERA TOYS.....
PLEASE USE YOUR OWN JUDGEMENT.... DOES SHOW SOME WEAR HERE AND THERE... MOST OF THESE VINTAGE PRE PLAYED WITH TOYS WILL HAVE SOMETIMES HAVE OLD REPAIRS / STITCHES... OLD RUBBER PARTS SHOW SOME WEAR/ DISCOLORATION....
COULD USE A GENTLE CLEAN.... ALL ADDS TO HIS CHARM AS IT TELLS THE STORY OF HIS LIFE AND HIS HISTORY ETC... CUTE FACE WITH BIG RUBBER MONKEY EARS.
PRE OWNED TRUE VINTAGE PLUSH TOY WILL SHOW SOME AGE WEAR FROM PLAY WHICH IS GOOD AS IT MEANS SOMEONE ENJOYED HIM IN HIS LONG LIFE.. NEEDS SOMEONE TO LOVE AGAIN AND HAS LOTS OF LOVE LEFT TO GIVE. SWEET OLD MONKEY CHIMP A IS TRUE VINTAGE TOY.... OLD CLASSIC BLACK COLOR PLUSH BODY WITH CUTE RUBBER FACE, LIFELIKE HANDS, FUN BABY SHOES ETC... SWEET MONKEY DOLL TEDDY TOY FROM BACK IN THE DAY.....
BELIEVE IT TO BE OF 1950'S / 60'S ERA VINTAGE... COLUMBIA , RUSHTON, KNICKERBOCKER, IDEAL , GUND, MYTOY ETC ALL MADE RUBBER FACE TOYS..
I TRY MY BEST TO DESCRIBE THESE VINTAGE TOYS THE BEST I CAN BUT PLEASE USE YOUR OWN BEST JUDGEMENT AS TO THE YEAR MADE AND FOR THE MAKERS OF ALL THE VINTAGE TOYS I LIST IF NO TAGS ETC REMAIN.... TRUE VINTAGE TOYS USUALLY SHOW SOME AGE WEAR AND THIS SWEET OLE TOY IS IN PLAYED WITH VINTAGE CONDITION, HE HAS BEEN LOVED IN HIS LIFE WHICH MAKES ME HAPPY , HE DIDNT JUST SIT ON A SHELF....
HE HAS PRETTY VIBRANT COLORS... FACE / RUBBER PARTS DO WELL WITH A GENTLE CLEAN. USUALLY SHOW A LITTLE SCUFFING / DISCOLORATION ETC, NOT SURE OF THE BEST CLEANER TO USE ON THIS OLD RUBBER FACES ETC SO WILL LET THE PRO'S / COLLECTORS / BUYERS DO IT THEIR WAY.... PLEASE SEE ALL PHOTOS FOR BEST DETAILS OF PRE OWNED CONDITION DETAILS ETC AS PART OF DESCRIPTION.... FUN OLD CLASSIC TOY MONKEY TEDDY BEAR FOR THE VINTAGE TOY COLLECTOR.
TRUE VINTAGE PRE OWNED TOY WILL SHOW SOME AGE WEAR ETC.. PLEASE SEE ALL PHOTOS FOR BEST DESCRIPTION OF TOY BEAR DOLL ETC. GREAT LOOK FOR DISPLAYING WITH A GROUP OF OLD ANTIQUE VINTAGE TOYS AND TEDDIES....
Photos are the best description.... I try to note any flaws but this is an old toy and will have imperfections and i can miss something by accident so please see photos for details.... BRINGS YOU BACK TO THE GOOD OLD DAYS. I LEAVE ALL MY OLD TOYS AS FOUND. I HOPE THIS ONE FINDS A LOVING HOME SOON...
THEY HAVE ALL BEEN LEFT AS I HAVE FOUND THEM OVER THE YEARS. BOTH MY HOME AND MY ANTIQUE SHOP ARE NON-SMOKING. ANTIQUE BEARS DISPLAY GREAT WITH AN ANTIQUE COUNTRY DISPLAY OR SITTING ON AN OLD ROCKING HORSE ETC.... THEY ARE ALWAYS VERY SWEET AND FULL OF CHARM FOR YOUR NICE COUNTRY HOME DECOR. I WILL ALSO HAVE MANY MORE BEARS SOON TO BE LISTED!
IF YOU WOULD LIKE PRIORITY LET ME KNOW RIGHT AWAY AS THAT IS HIGHER COST AND THE FINAL INVOICE WILL HAVE TO BE ADJUSTED. I only wish I was lucky enough in my lifetime to get to go to half of the wonderful places in the world and some of the countries many of my Dear Antique Teddy Bear friends have been Lucky enough to have been adopted to!!! I THANK ALL My Teddy Bear Friends that have Adopted my Sweet Bears, it means so much to me to know they have GOOD Homes & Are LOVED!! ADDED, PLEASE LET ME KNOW AND WE WILL ADD THAT PRICE TO THE TOTAL... SHOP POLICY ALL SALES ARE FINAL SO PLEASE ASK QUESTIONS FIRST.. I TRY TO FIND INTERESTING AND UNIQUE VINTAGE ITEMS FOR YOU.... I WOULD BE PROUD TO HAVE IN MY OWN COLLECTION!! THANK YOU AND GOD BLESS. SHOP POLICY IS ALL SALES ARE FINAL SO PLEASE ASK QUESTIONS FIRST..
ON MY STORE INVENTORY ITEMS I WILL ALSO ACCEPT FAIR OFFERS TO MAKE ROOM FOR NEW MERCHANDISE... SHOP POLICY IS ALL SALES ARE FINAL SO PLEASE ASK QUESTIONS BEFORE. WE ARE LOCATED RIGHT ON THE CANADIAN BORDER IN INTERNATIONAL FALLS, MINNESOTA ON HWY 11 EAST.
(one mile from the Canadian border) RIGHT ON THE WAY TO OUR FAMOUS FISH FILLED RAINY LAKE!!! MY ABOUT ME PAGE HAS MORE ABOUT OUR SHOP. The item "VINTAGE RUBBER FACE RUSHTON PLUSH MONKEY HAPPY CHIMP 21 ZIPPY MR BIM 1950s ZIP" is in sale since Friday, December 20, 2019.
This item is in the category "Toys & Hobbies\Stuffed Animals\Vintage". The seller is "bogwoman" and is located in International Falls, Minnesota. This item can be shipped worldwide.
Size: 21 INCHES
ANTIQUE VINTAGE TEDDY BEAR: VINTAGE CLASSIC TEDDY BEAR COLLECTOR TOY
Featured Refinements: Zippy Monkey
VINTAGE RUBBER FACE PLUSH MONKEY BEAR: VINTAGE ZIP ZIPPY MR BIM CHIMP 1950'S 60
Modified Item: No
VINTAGE RUBBER FACE PLUSH TOY: VINTAGE RUBBER FACE HANDS CHIMP BLUE RIBBON PLUSH
Year: 1950 1960 APPROX
Character Family: VINTAGE CLASSIC TOYS 1940S 1950S
Brand: RUBBER FACE TOYS RUSHTON
Recommended Age Range: COLLECTOR TOYS VINTAGE
VINTAGE RUBBER FACE PLUSH RUSHTON CHIMP: VINTAGE RUSHTON ZIP ZIPPY MR BIM CHIMP MONKEY